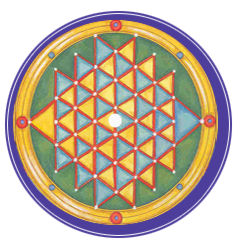 Unless otherwise noted or arranged all events are held at Sacred Circles Hilltop
20863 Palomar Mtn. View Rd. Ramona, CA 92065
Phone (760) 788-9571
e-mail auras@wildblue.net Map
Irene Keller
(760) 788-9571 e-mail auras@wildblue.net
Irene is a Certified Clinical Hypnotherapist, Biofeedback Practitioner and psychic empath. Irene has read thousands of Aura photos since 1995. She also does one on one readings at psychic fairs, parties and privately, utilizing a combination of angel cards, soul cards and rock specimens. These are three way chanelled messages. The client will select a stone unseen and hold it during the first two parts of the reading. The angel cards will reveal a message from above. The soul cards will reveal answers from within, and the stone will answer questions from below meaning your personal earth issues. The stone is then given to the client to keep as a personal talisman.
Nathan Keller
(760) 788-9571 e-mail auras@wildblue.net
Nathan has been doing readings for the past 20 years. He began with tarot and gains insight from his inborn psychic ability to help others to sort out their direction in life. Since 1995 Nathan has added Aura photography to his skills. He reads at county fairs, private parties and metaphysical bookstores.
Ruth Iams
(760) 788-2915
Licensed Independent Spiritual Practitioner and Counselor, Teacher, Guide, Speaker, Metaphysician since 1984; clients describe me as unconditionally loving, empathetic, supportive, compassionate, speaking in simple terms, joyful, enthusiastic, peaceful, self-confident and optimistic. Ruth does Angel Readings imparting personal messages from angels.
Rev. Adrianne Verry 
(619) 277-3224 e-mail adoe2001@yahoo.com
Ordained Minister through Universal Life Church
I have officiated several weddings and performed initutive/vibrational readings for many years. How my readings work: by holding the subjects hands, and ask if they have any questions. I answer their questions & what ever else I'm feeling that is coming through my guides/channels, in an enlightened and positive manner.